Thomas Atum O'Kane
is a graduate of the Guild for Spiritual Guidance, which focuses on the depth psychology of Carl Jung, the vision of Teilhard de Chardin and the practice of Christian Mysticism. He holds a Master's degree in Psychological Counseling and a Doctorate in Transpersonal Psychology. Thomas Atum O'Kane is the founder of training programs in Spiritual Guidance, located in America, Canada and Europe.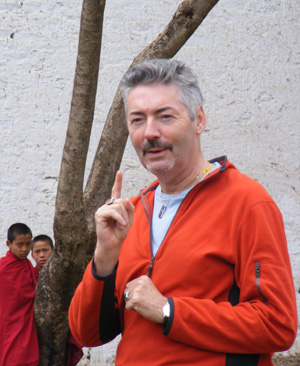 Atum conducts training in aspects of Transpersonal Psychology for those in the helping professions. He is a senior teacher in the Sufi Order International where he served as the Secretary General for twelve years. Atum has co-taught with Zen Buddhist teachers in an interfaith dialog for over ten years. Reb Zalman Schachter, founder of the Spiritual Eldering Institute, served as an advisor and mentor for his graduate studies.
Following his statement on the presentation below, you will find recordings of Atum O'Kane speaking in Petaluma CA at the 2013 International Gathering of the Spiritual Guidance Community. . .
'Are you willing to be the object of God's desire?' – Meister Eckhart.
As I began to consider my presentation at our 2013 International Gathering, a dream arose that culminated in the words of Meister Eckhart. When I fully awoke, it was clear the themes would relate to the emergence of the spiritual guidance community to his quote.
We have been called, we responded, we have come together and we have actualized God's or the Universe's desires. Over the past twenty five years, a school and a community has been created that did not exist before. As I reflected upon this miracle, it became obvious that the seed of God's or the soul of humanity's desire began to unfold long before the conscious idea of a spiritual guidance training took form.
My talk tells our story, according to my present understanding, and it offers reflections on how this divine intention is continuing to unfold.
In deep gratitude for our sharing as co-creators,
Atum
Links to the recordings…
Atum's Journey, Teachers, Mentors, on the path to developing the Spiritual Guidance Wisdom School
The Origin of the Spiritual Guidance Training Program and the Spiritual Guidance Community
The Future of the Spiritual Guidance Community: Where we are headed.